---
DVCTA Harvestfest 2023
Eventing
September 24th
Olney Farm
Dressage
November 4th
Blue Goose Stables
Combined Test
November 18th
Blue Goose Stables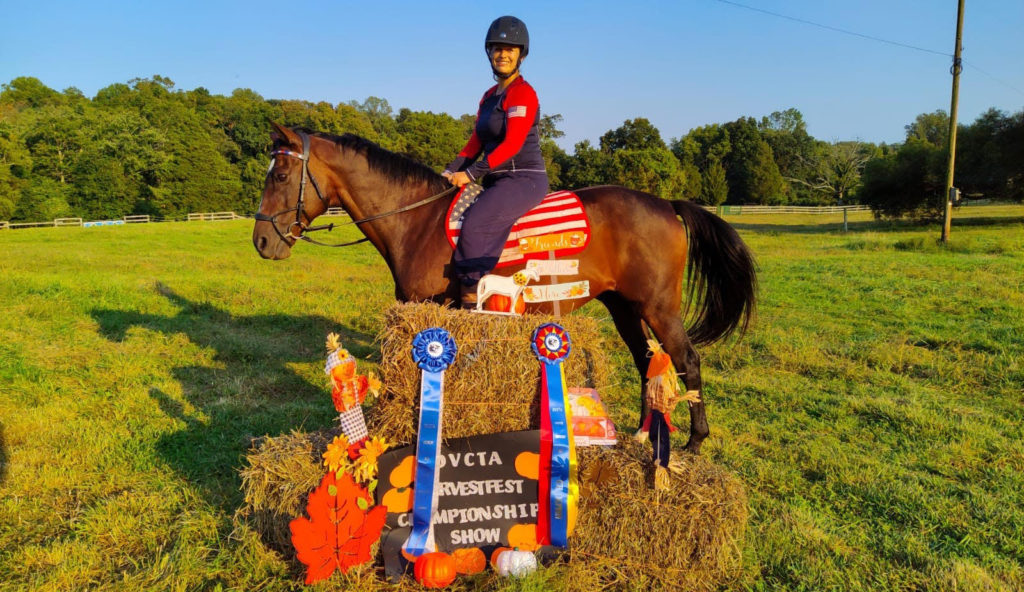 Entries for the eventing championship are now open! In order to qualify, you must be a DVCTA member and must have completed two unrecognized or recognized HTs between October 1, 2022 and September 17, 2023 (for Greenhorn division only one qualifying score is required).
You must enter Olney Farm's Starter Trials at https://olneyfarm.com/olney-farm-ht, pay the entry fee and submit the regular entry form and release to Olney by the closing date. There is a separate nomination form and additional fee for the Championships which must be submitted to elizaherman1979@gmail.com by the closing date. Fee is $30 payable by PayPal to dvcta2011@gmail.com.
Volunteer hours from the Olney Starter Trials and DVCTA Eventing Championship will count toward the DVCTA volunteer requirements. Sign up to volunteer here: https://www.eventingvolunteers.com/events/2939/signup
Information and prizelist for the Dressage and CT Championships coming soon!
We are looking for sponsors for Harvestfest 2023! This is a great way to advertise your local business and give back to a diverse equine community. Find out more about sponsorship opportunities here:
Thank you to our 2023 DVCTA Harvestfest Sponsors!
Nunn Finer Products Inc.
Rolling Hills Ranch
Gateway Garden Center
Red Oak Farm LLC
---
Thank you to our 2022 DVCTA Harvestfest Sponsors!
IRON SPRING FARM (FEI Championship & High Score KWPN and Friesian awards)
ROLLING HILLS RANCH
FREEDOM HILLS THERAPEUTIC RIDING
RY'S HORSE DELIGHTS
BLUE GOOSE STABLE, LLC (FIRST LEV Championship)
BUCK RUN SMALL ANIMAL HOUSECALLS
RED OAK FARM LLC (EVENTING TB award)
MIDATLANTIC HORSE RESCUE (CT and DRESSAGE TB awards)
BECKY LYNCH (LEADLINE Championship)
DUVALL BUS SERVICE
NUNN FINER PRODUCTS
THORNRIDGE MANOR LLC
SECOND NATURE FARM
RPM SERVICES